The  project Mantodea

For a long time, I have been interested in insects in general and specially Mantodea. With this experience, I try my best to participate in maintaining and increasing the knowledge of environment. Too many species disappear every day without being studied. And unfortunately, biodiversity can not be maintained at the current level if habitat destruction, deforestation, invasive plant species and neglect of man still carry on.

The aim of my study is to contibute to  :

map Mantodea in not or few explored areas;
Help to protect fragile and threatened environments, especially tropical forests;
Highlight species to be protected;
Identify specimens collected during sampling missions carried out by public research laboratories or private, NGOs, associations and by individuals;

.

Computerize the systematic of Mantodea and initialize its 'barcoding';
Publish in scientific journals.


.

This project requires expertise in many skills :

Practices of insects sampling techniques, habit of fieldwork;
Knowledge and practical tools for determination, work on collections, repositories, books;
The systematics of Mantodea;
Processing and data management: statistical calculations, the Geographic Information Systems, management of databases;
Pedagogy and communication.


.

Moreover, to complete this project, better is to be associated with networks of professionnals and amateurs.

Sampling techniques

Various techniques are available for sampling mantises :

- view prospecting (la prospection à vue) requires no special equipment but needs a great sense of observation and much attention. .
.- mowing (le fauchage) consists in cutting  plants and then detect the presence of expected insect species .


- threshing (le battage) consists in shaking the branches of the plant above a tissue stretched in order to collect the insects and then to determine on site or to retrieve them for further determination.

- Nocturnal hunts (les chasses nocturnes): This technique requires a blank tissue and a high power lamp.  See article on this site by following the link chasse nocturne.




.

- Remote Canopy Trap (le piégeage automatique avec lumière incorporée) :
This technique consists in installing an aerial trap equipped with a lamp powered by a battery and a timer. This system operates autonomously. Then we just have to collect insects and arrange on providing good support conservation.


In forested areas, it may be necessary to climb high in the trees to implement these various methods (view prospecting, threshing, nocturnal hunting , Remote Canopy Trap)
.

.
.
.
..
.
.


Systematics and Taxonomic work about Mantodea
Once  sampling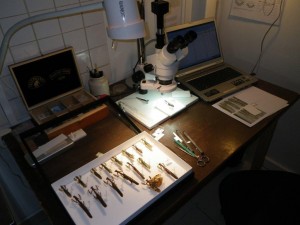 completed, work continues at the office with a good  binocular, documentation (magazine, books, or computer …); (databases, library computer …), collection boxes and equipment for insects presenting (spreading board, flexible clamps, …)
.
.
.
The determination of Mantodea requires examining the various parts of the individual studied including the head, pronotum, legs, wings, abdomen, genitalia. Schemas are established to specify the characteristics of each species.
Here is an example from a study by Roy and Svenson 2011.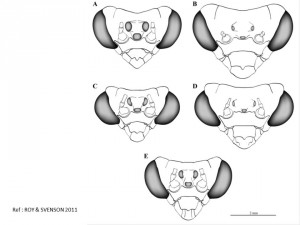 .
.
.
.
.
.
.
.
.
.
In this context, ecology and phylogeny in particular is studied through phylogenetic analysis (barcoding). These analyzes are associated with species descriptions and revisions of gender.
.Many of these works are carried out within the framework of international cooperation within the project Mandodea: Systematics and Evolution (see in this very informative site: mantodearesearch)
Have a look also on : mantids.de de M Stiewe, et mantodea.speciesfile, as well. You will find a lot of pictures and details on the topic.